The hunt for the final resting place of Captain James Cook's HMS Endeavour may soon be over – in time for the 250th anniversary of its voyage to Australia.
The Endeavour, then known as Lord Sandwich II, was sunk with 12 other ships off Rhode Island, in the US, in August 1778, but no-one was sure where.
Now, following a 25-year archaeological study of the area, the search has been narrowed to just "one or two" sites.
Experts are now hopeful it will be definitively identified by 2020.
That would be just in time for the anniversary of Capt Cook arriving in Australia, following a two-year voyage of discovery which initially set out from Plymouth, England.
The Rhode Island Marine Archaeology Project (Rimap), which has been working with the Australian National Maritime Museum (ANMM), said it would release a "3-D photogrammetric image of a promising site" on Friday.
But it will still be some time until the true identity of the wreck is revealed. "Detailed work" must be done during a planned excavation of the area, just off Goat Island, in 2019, it said in a statement.
"We're not in a position to identify it conclusively," Rimap's Kathy Aththas told News.com.au.
"Once excavated it will require sampling, testing of the type of wood and nails, and analysis which won't give us a definitive answer for another 18 months."
Capt Cook set sail on Endeavour – a British-built coal ship – in 1768 on a scientific voyage to map the Pacific Ocean.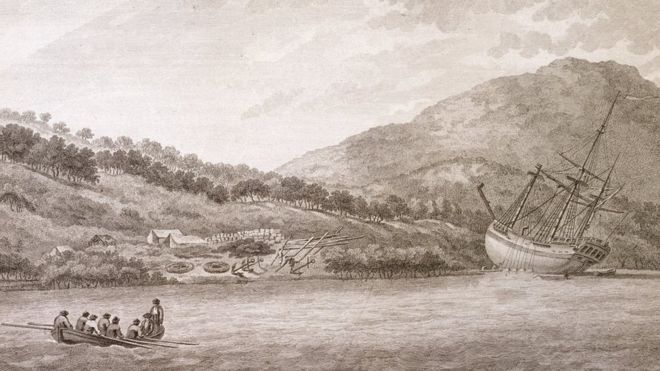 It was the ship in which the explorer charted New Zealand and Australia between 1769 and 1771. He arrived off the south-east coast of what is now Australia in 1770, eventually making landfall at Botany Bay.
He later claimed the region for the British crown, despite the presence of large Indigenous communities.
After sailing back to Britain, the Endeavour was renamed Lord Sandwich II and became a troop carrier.
During the American War of Independence it was scuttled by the British Navy with the 12 other ships to form a blockade of the Narragansett Bay.